The new modernism means large glazing and even more space
Modernism, or minimalism in architecture, is back. Buildings constructed in this style allude in form and minimalist elegance to the designs of the 1930s. However, with today's new technologies, a number of differences have emerged in this trend – including those associated with the use of large glazings.
New Modernism is a trend that is alive and well. Raw and simple volumes with smooth surfaces are increasingly popular among designers and architects. Offices, public facilities and residential buildings alike are constructed in this style. This huge and ever-growing popularity of new modernism is most likely a response to modern people's yearning for minimalism and simplicity.
And thanks to the development of construction and the latest technologies, elements that do not disturb the harmony of the austere style can be successfully used in this type of design. Large glazings – as they are referred to – have also become an almost obligatory part of new facilities built according to the rules of ecological and passive construction. They offer more than just interesting aesthetic qualities.
Insulating glass panes can not only be used to replace an entire interior or exterior wall, but also – with the right solutions – to make very large windows and sliding doors. They can easily have good insulation properties, they are quiet, and sufficiently resistant to deformation while also letting in as much daylight as possible. And most importantly – they fit in with the new modernism.
Attractive visual design without compromise
Without a doubt, the biggest advantage of large glazings is that they optically enlarge interiors and allow considerably more natural light to enter. This makes even small rooms look much more spacious, while retaining simplicity, lightness and minimalism – in line with the main rules of the new modernism.
Large glazing can also be used to create a glass wall that can be opened up at any time to connect, for example, the living room with the garden or kitchen, or to separate a conference room from a noisy open space. Such solutions are nowadays an increasingly desirable attribute of modern homes and office buildings.
'However, if large glazings in place of walls are to be fully effective, they have to provide the right level of thermal insulation. This requires the right materials and technologies. An example is the MB-SKYLINE TYPE R sliding door system from Aluprof, which uses 3-chamber profiles constructed from two aluminium sections and a thermal insert. As a result, it provides Uw thermal insulation at a level of 0.85 W/(m2K). Thermal comfort is also improved by the 3-glazed packages with a thickness of 52 to 60 mm', says Tomáš Buček, project business manager of společnosti Aluprof System Czech s.r.o.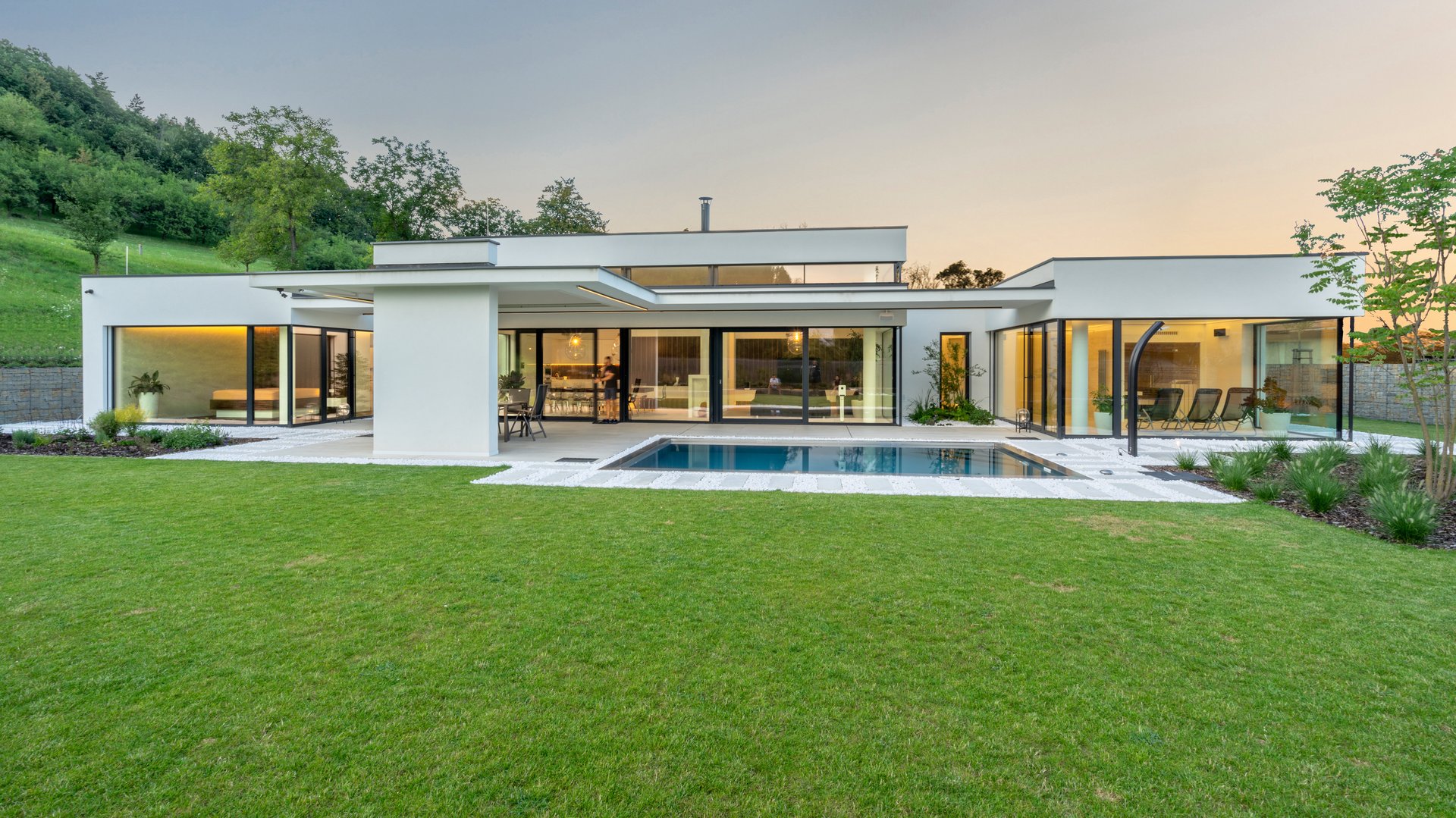 When less is more…
Modernist architecture, complemented by large glazings, even enforces the use of appropriate interior design. It should be characterised by the same style – cool, minimalist and elegant. At the same time, the rooms, both at home and in the office, must be comfortable and welcoming and, above all, functional. For this reason, when it comes to furnishing these rooms, the most important rule is: less is more.
This is why interiors designed following the rules of the New Modernism trend use other ways to create an interesting and original design – including glass interior walls. The lack of an optical partition between rooms makes it possible to harmoniously combine several interiors and to give additional exposure to rooms that look spacious and stylish.
An example of the systems available on the market for the construction of internal glass walls is MB-Harmony. This is a system from the Aluprof brand that is easy to prefabricate and can be installed very quickly in the target place. It also offers a modern and lightweight design which, combined with durability and high comfort, guarantees long and trouble-free use. The system allows the use of the most popular laminated and toughened glass available on the market.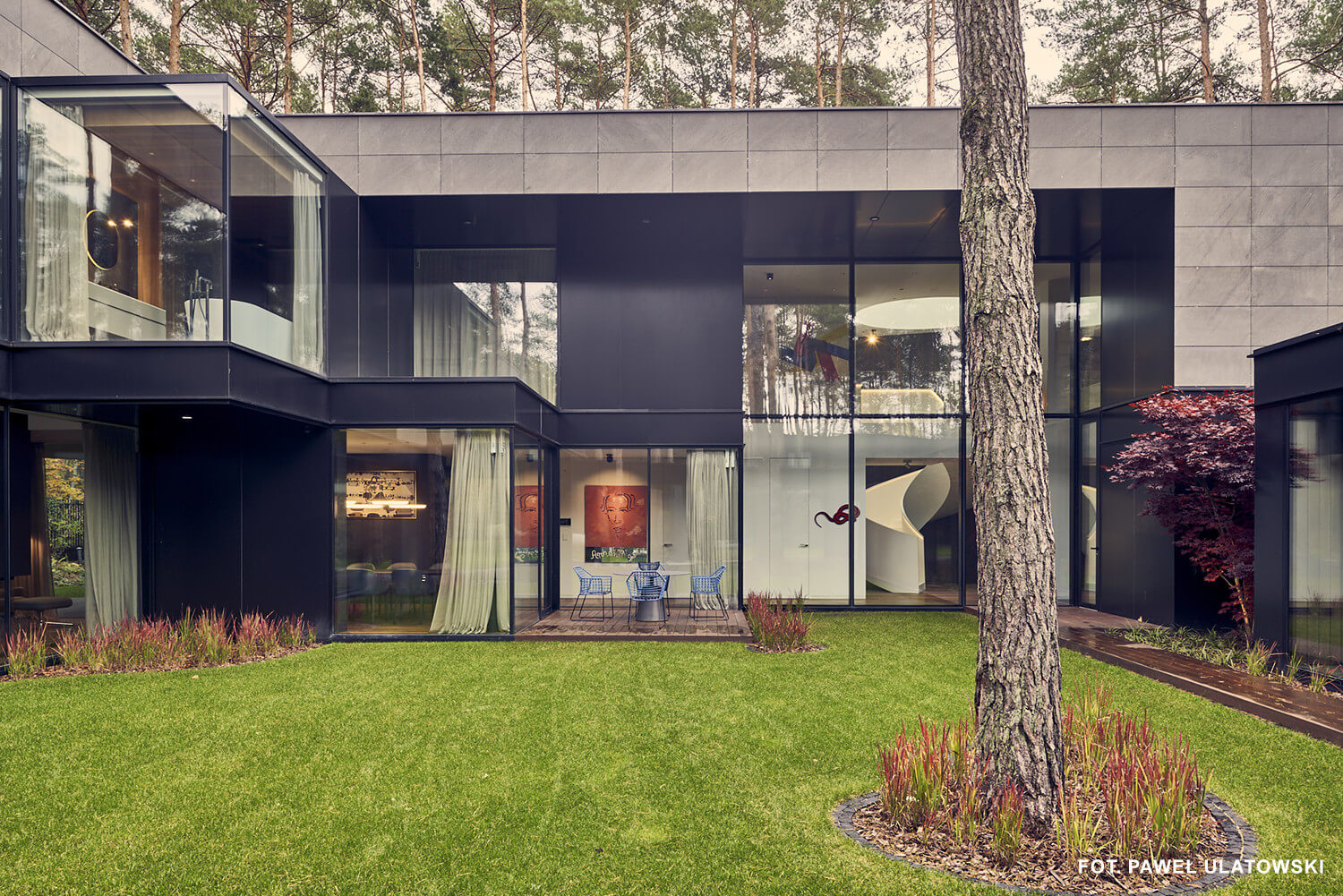 Let's build a better future
Large glazings are an indispensable element of modern buildings designed in the spirit of the new modernism. Using the latest technologies makes them not only safe, warm and comfortable, but above all aesthetically pleasing and functional. And the effect of blurring the boundary between individual rooms or the interior and the garden or terrace turns out to be invaluable.
PS Discover inspiring examples of projects from leading design studios in the 'Facility of the Year in Aluprof systems' contest on the Future Builders website.