What is mixed-use architecture?
Mixed-use architecture has the purpose of creating spaces that combine multiple functions – including residential, commercial and cultural functions. It turns out that such solutions have many benefits, including giving new life to old buildings, supporting ecology and improving living comfort.

Not so long ago it was very popular to design and build neighbourhoods with one specific use, such as residential, office or retail. The purpose of this was to achieve aesthetic coherence, as well as to facilitate relationships and bonding by gathering people with similar goals, needs and social class in one place. This approach worked well when urban traffic was not heavy and the public's environmental awareness was not as developed as it is today.
The creation of single-purpose neighbourhoods means that running several different errands may require visiting two opposite ends of the city. This is a solution that forces people to travel by car, thereby generating traffic jams, and is both time-consuming and environmentally unfriendly (smog, noise). Multifunctional neighbourhoods, currently allowing everyone to live comfortably without the need to move to other parts of the city, are becoming increasingly popular, thus meeting the standard modernist concepts. No one is surprised by a building with an underground car park, commercial premises on the ground floor, several floors of offices and flats and a hotel with a restaurant located on the top floors.
Mixed-use architecture and building renovation
Progressive climate change is driving the search for new solutions, including in the area of architecture. The purpose is to build less, which is why building renovation is growing in popularity. It is a process that has the purpose of transforming an area, bringing a new use for it and taking it to a point where it changes its function. The term mixed-use often comes up in the context of renovation – when old and often derelict buildings are transformed into multifunctional structures that are coherent with the rest of the urban environment.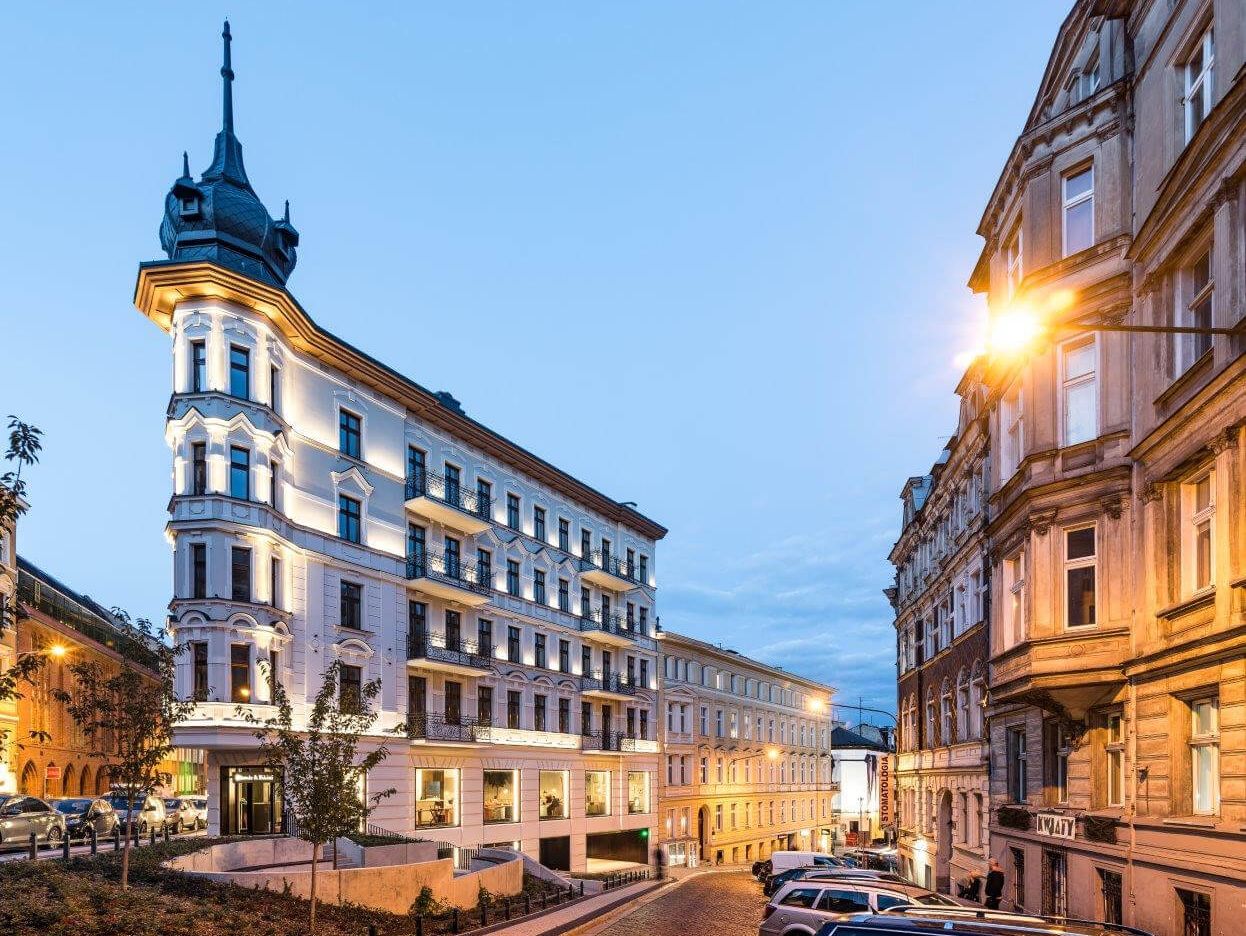 Żelazko tenement house, Poznań, Poland. Systems used: MB-60E EI, MB-70, MB-70US, MB-86 SI, MB-SR50N EFEKT.
In large cities, there are fewer plots of land available to investors, while at the same time, the most attractive districts often contain undeveloped buildings that no longer fulfil their purpose. Transforming such buildings into multi-functional spaces that meet the needs of today's society is a trend that is here to stay. Incorporating the idea of mixed-use into historic buildings is a very difficult task for the designer, investor and contractor. It is easier to construct new buildings than to adapt and redevelop old ones. Technical, logical and oftentimes legal problems are all hindrances. Nevertheless, it is a task worth pursuing, as the diversification of functions helps to give new life to the buildings so they have a positive impact on the local community.
Mixed-use architecture and climate change
Thanks to mixed-use architecture, we can avoid those situations where some neighbourhoods are overcrowded for most of the day and others are almost completely empty. This approach fits the trend for 15-minute cities – everything you need to live should be within a 15-minute walk of your place. As a result, residents no longer have to rely on cars as their main form of transport, which means traffic jams and emissions can be reduced. Another environmental benefit is the reduction in the number of constructed buildings, with renewal and the giving of new functions to the existing ones coming first. Mixed-use is a trend that is shaping the future of urban planning.
Mixed-use architecture fits in with the trend towards sustainable construction, as does the use of environmentally-friendly building materials – here aluminium is at the forefront, as it is almost entirely recyclable and reusable. At the same time, it is a raw material that provides the desired performance in terms of thermal insulation, rigidity and resistance to adverse environmental conditions.
Assessing the attributes of sustainable products is facilitated by C2C (Cradle to Cradle) certification. This is based on the premise that all waste generated during product creation is also raw material, which must be fully recyclable and be used to manufacture further products. Among the Aluprof aluminium systems that have received the C2C certificate are: the MB-SR50N EFEKT semi-structural façade system, the MB-86 SI, MB-SR50N OW window and door systems, and the MB-SR50N HI+ façade system.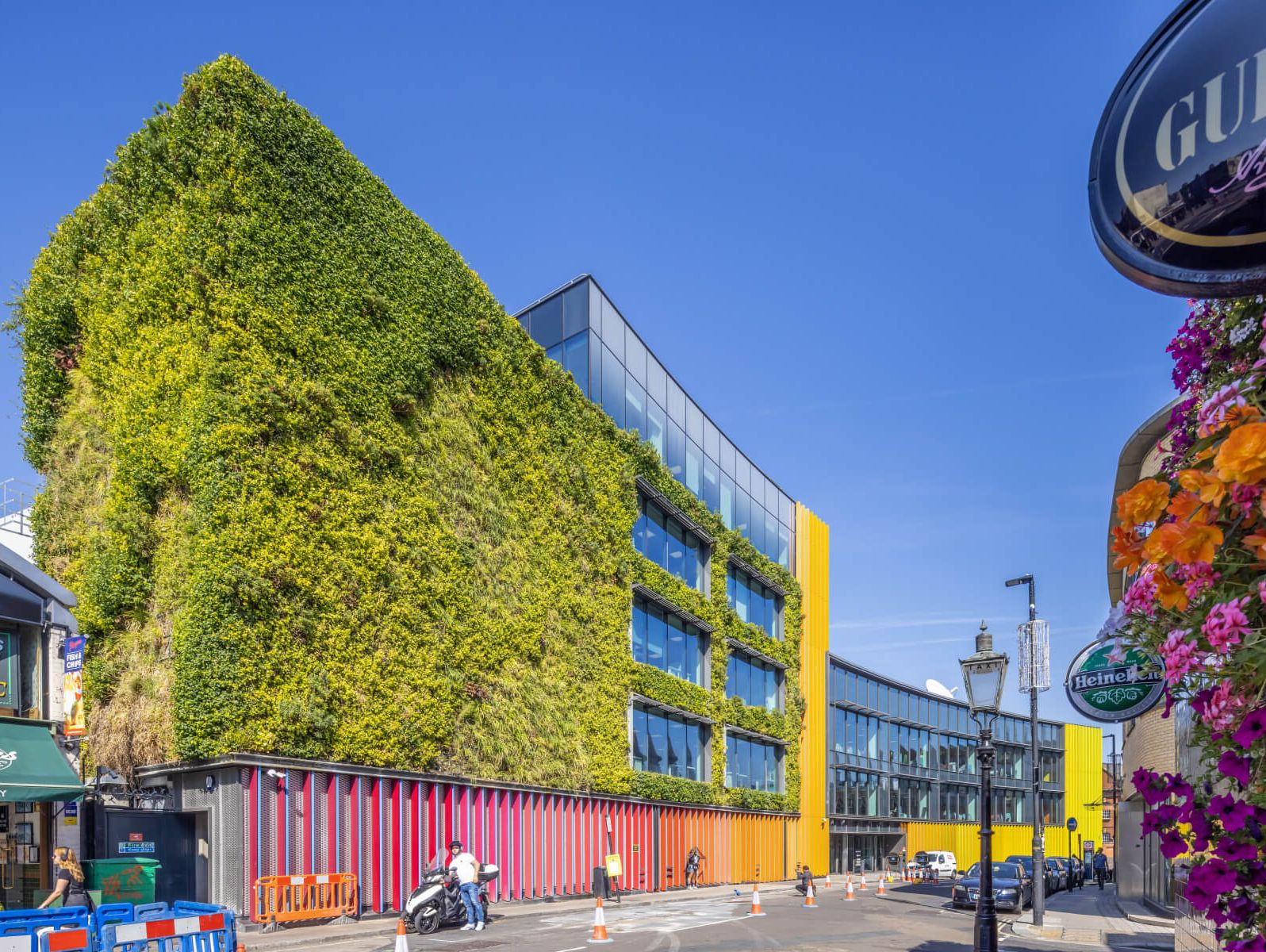 Viacom International Media Network (VIMN) headquarters, London, UK Systems used: MB-70HI, MB-SR50N, MB-SR50N EFEKT.
The impact of mixed-use architecture on cities and neighbourhoods
While location used to be the deciding factor in choosing a particular real estate, today the new indicator has become the available amenities and solutions. A building does not have to be in the centre of a city to meet all the needs of its inhabitants. Self-sufficient and multifunctional neighbourhoods are becoming safe and comfortable places to live, combining residential, commercial, educational and cultural functions. As a result, the neighbourhood attracts more people at different times of the day, which improves safety and also results in the better functioning of local businesses.
Mixed-use architecture gives individual neighbourhoods a distinct character and helps to shape social life. This is made possible by the harmonious integration of the project with the surrounding area – with plazas, squares and other publicly accessible spaces playing an important role.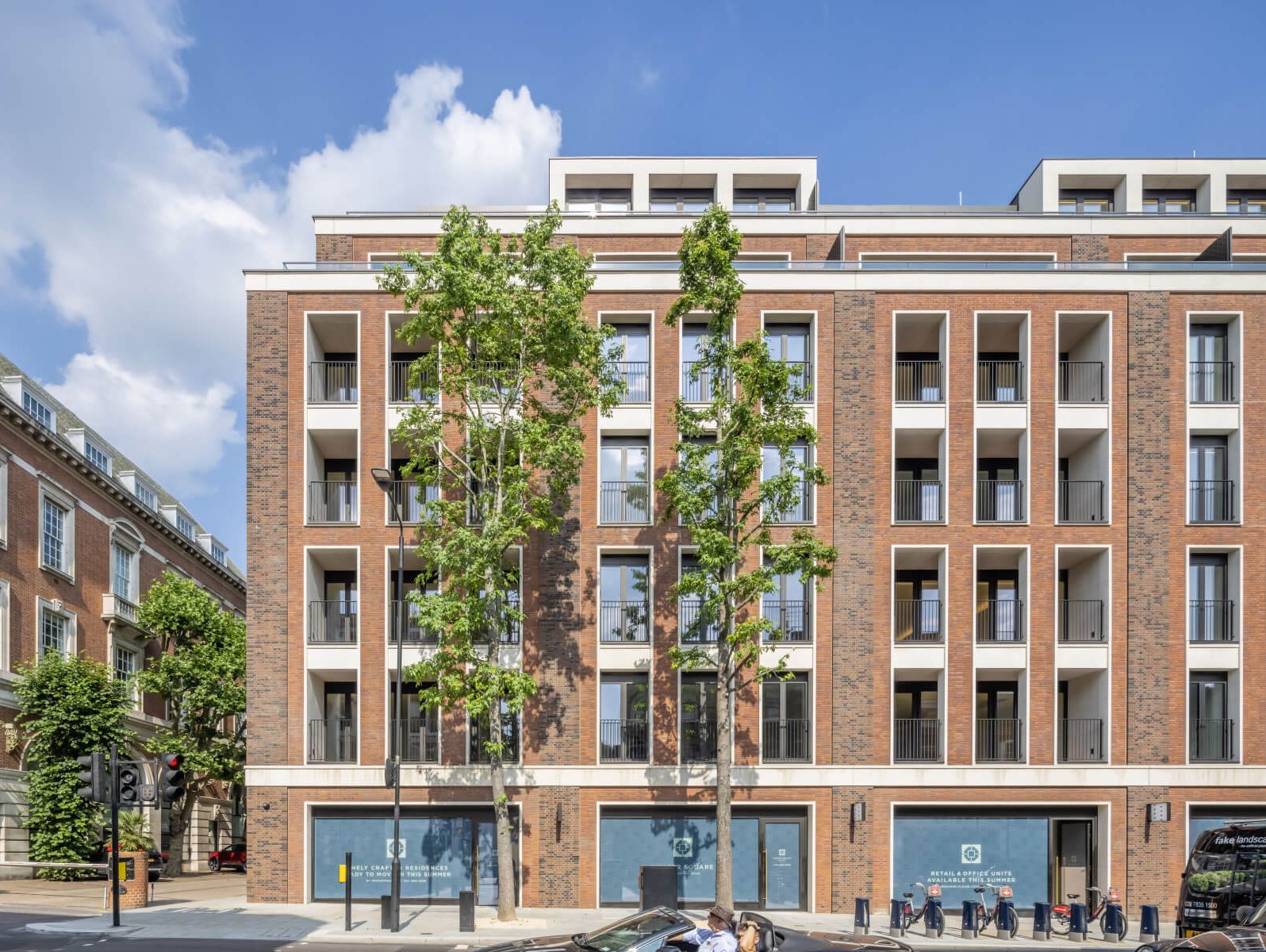 Lancer Square, London, UK. Systems used: MB-70, MB-86, MB-SR50N.
The COVID-19 pandemic also had a major impact on the intensive development of this direction, changing attitudes to movement. It has become more convenient to live somewhere everything can be done nearby – local shops, cafés, bakeries, parks, sports fields and playgrounds.
Let's build a better future
The diminishing amount of available land, the threats posed by excessive urban and conurbation sprawl, climate change, and the varying expectations of society are all arguments that have influenced the change in direction concerning the design of buildings, neighbourhoods and entire cities.