The 5 most promising building materials in the context of the climate crisis
The fact that the construction industry has a major impact on the environment has been known for a long time. Fortunately, the construction sector is paying increasingly more attention to the green aspects of its operations, investing in modern technologies and green building materials. Discover the five most promising ones!
The construction industry and climate change
According to the Net-Zero Challenge: The supply chain opportunity report by the World Economic Forum and the Boston Consulting Group, states that the construction industry is the second (after food production) industry responsible for the largest greenhouse gas emissions into the atmosphere. Consequently, its representatives, aware of the changes brought about by their activities, seek to conform to "green" trends and help to minimise the environmental impact.
In addition to using new low-carbon technologies, they are also looking for materials whose production or processing would be neutral to the biosphere.
Construction materials for a better tomorrow
1. Steel
This material is an excellent stabilising element, and its strength allows the erection of impressive structures. What is more, steel is very easily recyclable, which means that the associated demolition waste can be re-melted and reused, without the need to interfere with natural deposits.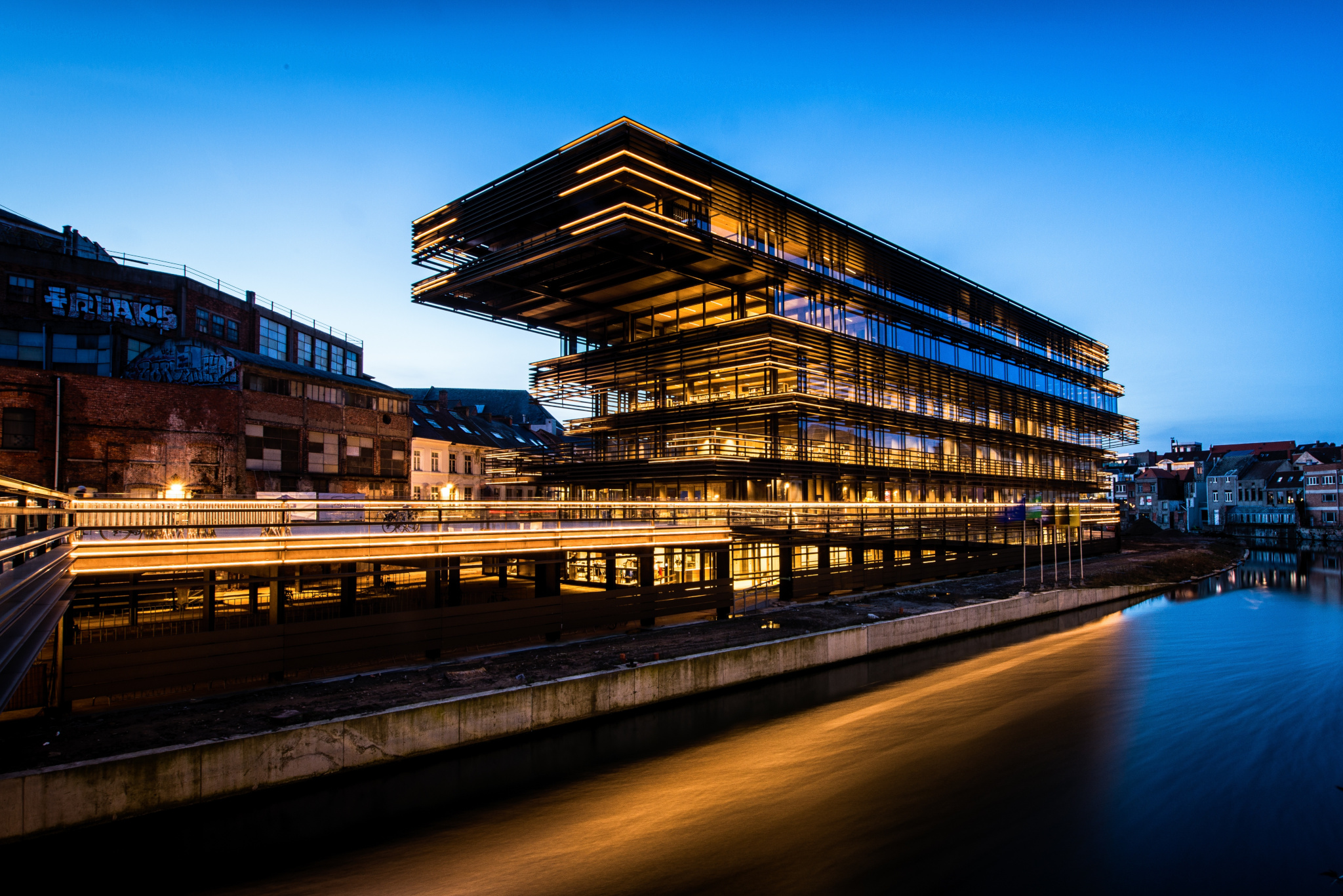 De Krook, Gent, Belgium. Systems used: MB-78EI, MB-86 SI, MB-SR50N A
2. Gypsum
This natural mineral is used in the production of the gypsum boards used in interior finishing and other applications. As no chemicals with negative environmental effects are used in the manufacture of gypsum boards, they can be recycled and used in future buildings as well.
3. Glass
A material for glazing window systems, doors and façades in buildings. It is also perfectly suitable for reuse, so we have the opportunity to use it multiple times for subsequent building projects. The different types of glass that glassworks are able to supply means that we can use it for both interior and exterior applications.
Aluprof entered the market in 2023 with a new brand – Glassprof. It is responsible for the production of fire glass in the following classes: EI 30, EI 60, EI 90, and other types of glazing units, as used in such building structures as windows, doors, partition walls and façades.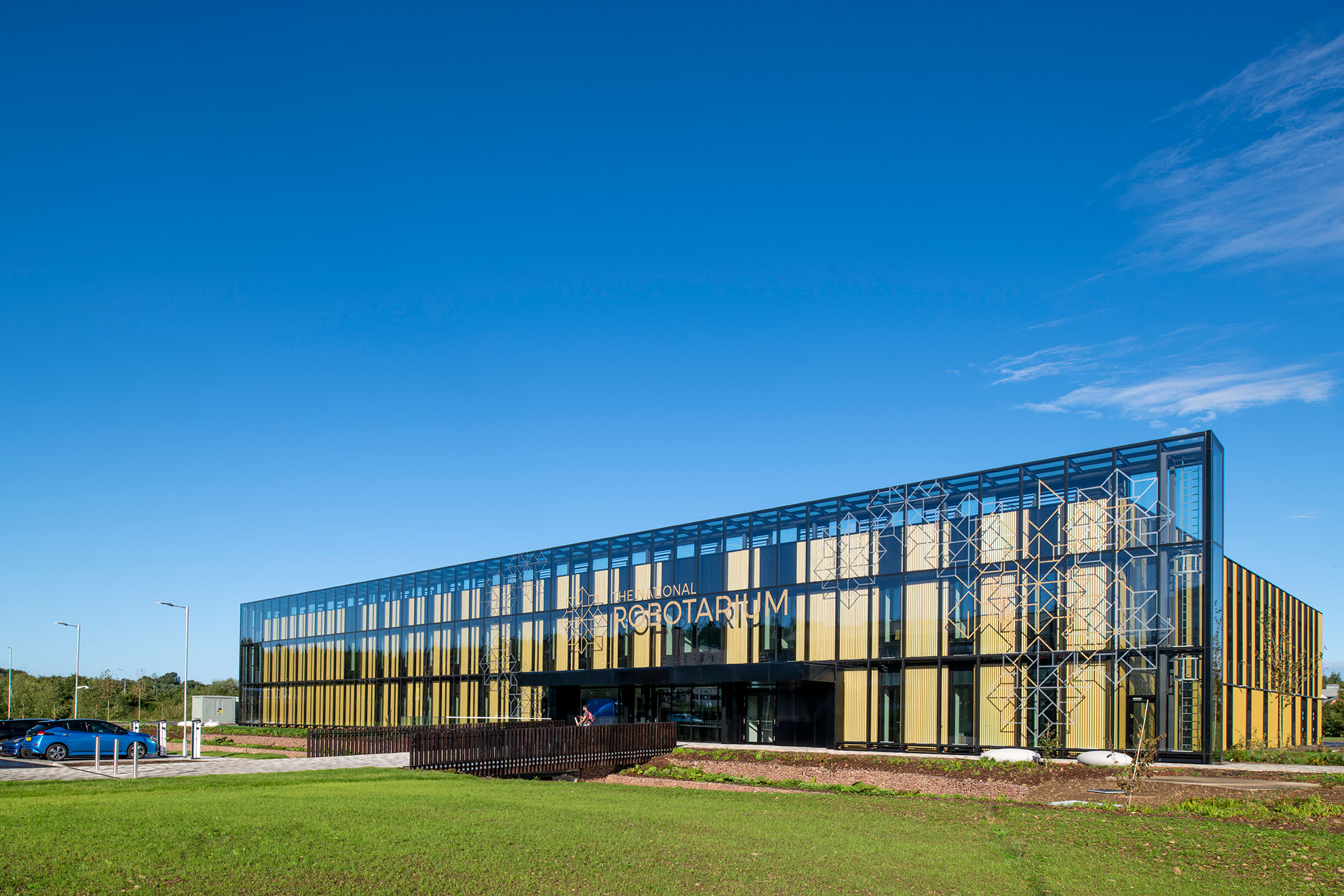 The National Robotarium, Edinburgh, Wielka Brytania. Zastosowane systemy: MB-86 ST, MB-SR50N, MB-SR50N EFEKT
4. Wood
Wood is also recyclable, but to a much more limited extent than the other examples mentioned in the article. However, in this case we deal with what is termed a renewable raw material. Thanks to proper management and far-reaching spatial planning, we have the opportunity to rebuild large areas of forest that have been felled for the construction industry, which also allows us to use wood almost indefinitely.

Recycled wood can also be used both as a finishing element and as a material for furniture boards.
5. Aluminium
It is lighter than steel, and much more weather-resistant. For this reason, Aluprof uses it for many applications, such as the production of frames for window and door systems dedicated to ecological construction. Aluminium is also one of the best recyclable materials. Its re-melting ability is able to save up to 95% of the energy and up to 97% of the water compared to primary aluminium production. This, in turn, means that recycling of this material is becoming increasingly popular and products made from it are used in many projects, including those with the highest levels of BREEAM and LEED certifications.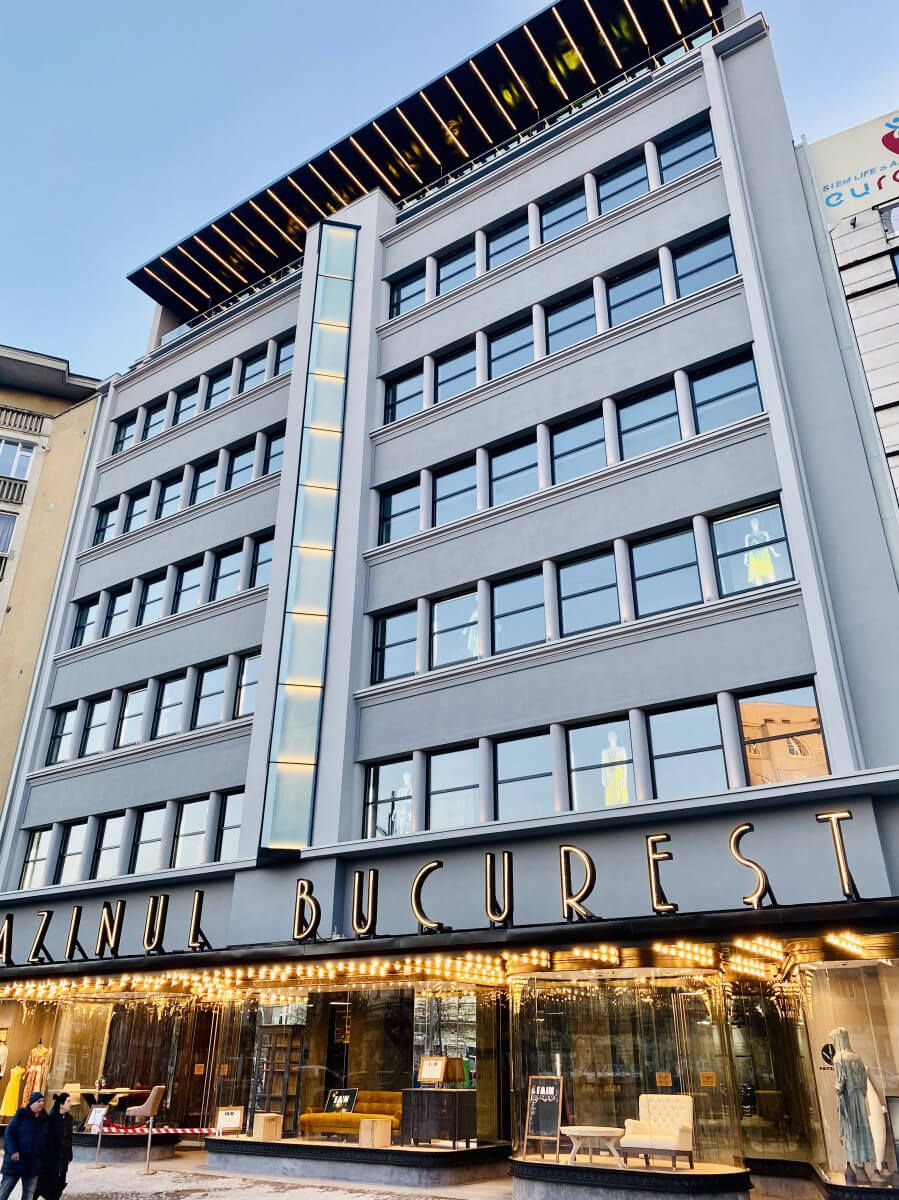 Magazinul Bucuresti, Bucharest, Romania. Systems used: MB-60E, MB-60E EI, MB-78EI, MB-SR50N
Let's build a better future
Aluprof range includes a number of solutions dedicated to ecological projects, such as the MB-104 Passive systems with passive construction certification, the MB-79N system ensuring very good thermal insulation, as well as the MB-SR50N and MB-SR50N HI+ systems for mullion and transom walls, also with increased thermal insulation. The Aluprof brand is one of the pioneers in this segment of products dedicated to sustainable and passive construction.
As a manufacturer of window joinery based on aluminium (both virgin and recycled), Aluprof also aims to create higher environmental awareness in the construction industry, which translates specifically into ambitious environmental targets. The brand plans to achieve a 15% reduction in its carbon footprint as early as 2025.