The second youth of old buildings, i.e. sustainable renovations
Sustainable construction is a relatively young trend, much younger than the majority of buildings which exist currently This means that when they have to be renovated, the question arises – can it be done in an eco-friendly way?
To demolish or to revitalise?
50 years in the scale of many buildings is only a small part of their history. However, if we went back 50 years into the past, we would find ourselves in times when no one had heard of sustainable construction. Facilities were built with the use of completely different materials, different technologies, and they also met completely different standards than those applicable today. Going back the next 50 years, we would reach completely different times, different regulations, and different views on the natural environment.
Buildings erected several decades ago often still exist today. In some cases, they require specific revitalisation works so that they can serve future generations. Then also the question arises – is it worth revitalising them, or is it perhaps a better solution to build a completely new facility in their place?
It turns out that regardless of the age of the building, we are now able to renovate it by applying the principles of sustainable construction. Due to the currently available technologies and materials, we can bring them back to their second youth, and also adapt them better to current trends.
Of course, contemporary standards cause that the scope of work in the case of such types of activities can be very wide. It results from the fact that it is necessary to take care of:
the removal of potentially environmentally hazardous materials and replacing them with more eco-friendly equivalents,
the design of efficient and energy-saving ventilation and air recuperation systems,
the improvement of the facility energy efficiency, which in many cases requires the application of appropriate passive technologies,
the adaptation of the building to the current fire regulations and securing it with appropriate systems protecting its future users.
Obviously, all the above points should also be considered when designing new buildings; however, in the case of renovation, the process is hampered by one specific element – the existing body, together with all its structural limitations.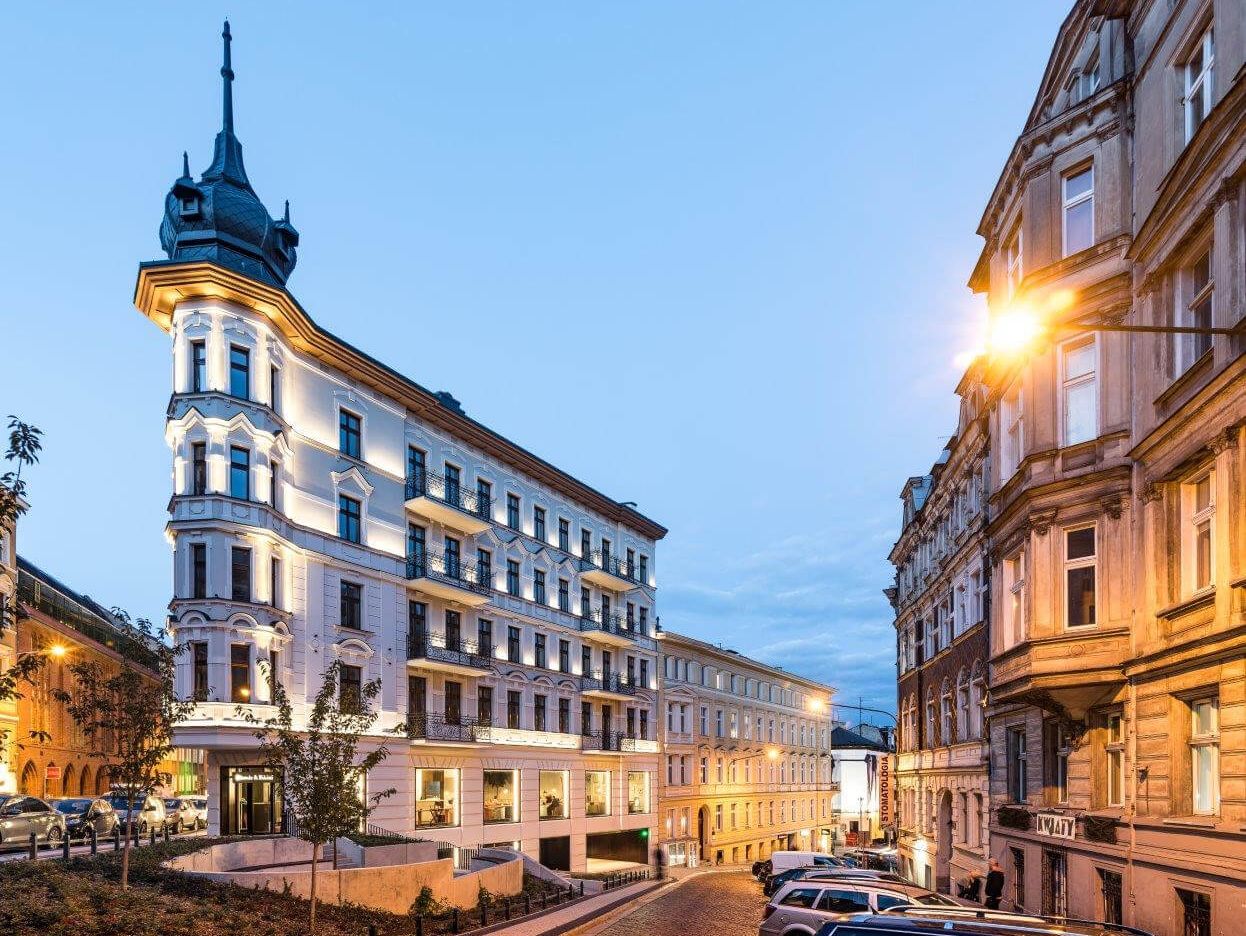 Żelazko tenement house, Poznań, Poland. Applied systems: MB-60E EI, MB-70, MB-70US, MB-86 SI, MB-SR50N EFEKT
Modern solutions in old buildings
Sustainable construction places great emphasis on environmentally friendly materials and technologies, which at the same time meet high safety standards. For this reason, renovation projects often use elements made of aluminium – metal that can be 100% recycled.
When it comes to the production of elements from this material, it is worth taking a closer look at the Aluprof product range. The window and door systems produced by this brand use aluminium to create durable frame structures. It means these frames are able to survive intensive long-term use in residential, commercial and service buildings as well as in public utility facilities.
Aluprof products are characterised not only by high-quality workmanship, but also by the ambition to ensure maximum safety. A good example is the MB-78EI system dedicated to the creation of internal and external fire partitions. Its main advantage is the fire resistance class from EI 15 to EI 90, as well as compliance with the PN-EN 13501-2:2010 standard. In addition to meeting fire protection standards, this system is also characterised by very good thermal insulation, where Uf is from 1.60 W/(m2K). The MB-78EI system has the BENOR-ATg certificate issued by the UBAtc Institute, thus fully meeting the standards of the Belgian market.
Such properties mean this solution is often chosen by developers revitalising old buildings, who want to adapt them to today's standards and legal requirements and to ensure the highest possible comfort and safety for future users. This concerns not only fire regulations, but also low energy demand.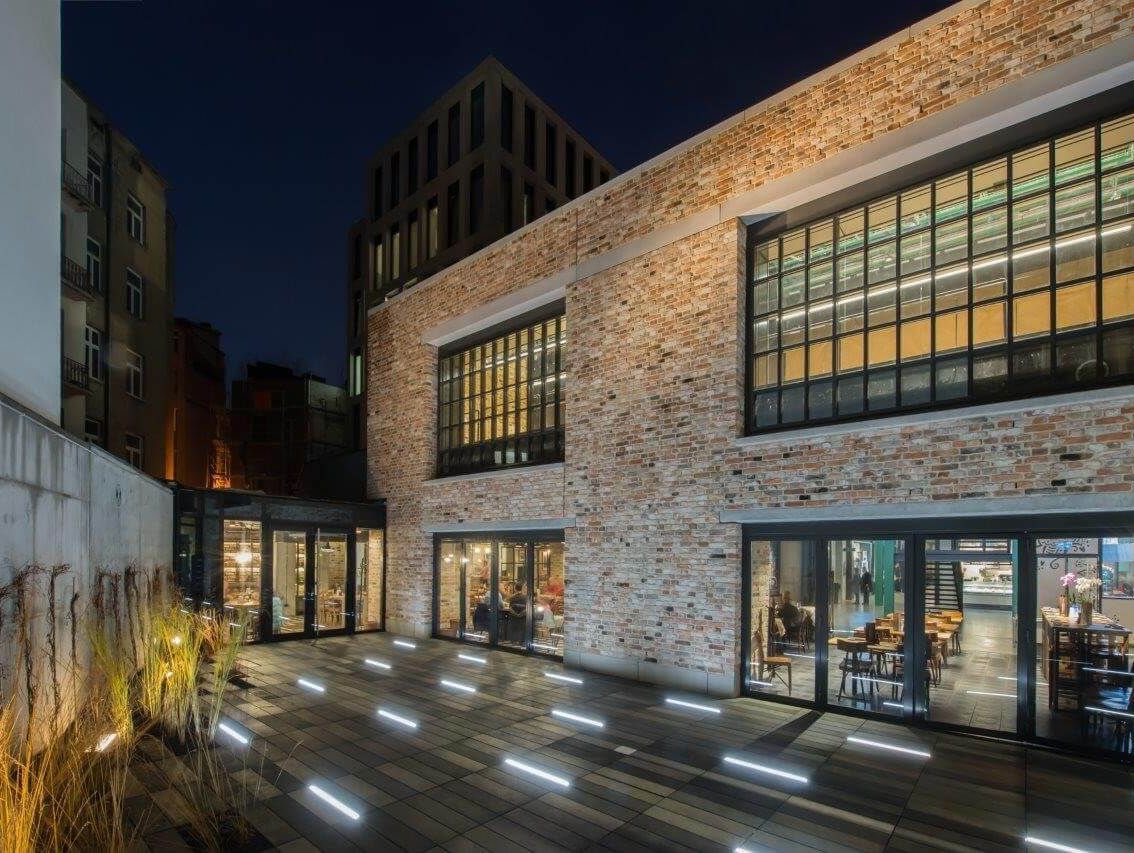 Koszyki Hall, Warsaw, Poland. Applied systems: MB-Slimline
Let's build a better future
Old buildings do not have to be demolished. With the help of appropriate technologies, it is possible to adapt them to the requirements of sustainable construction. Due to the 'green' trends, our cities and housing estates have a chance to be more eco-friendly. Combining the history of structures erected by previous generations, which, thanks to new solutions, will be able to serve our descendants, they maintain the recommended climate neutrality.
– Renovation is a great way to restore old buildings to their former glory, and often also to give them new, completely non-obvious functions – says Emmanuel Gregoire Managing Director in Aluprof Belgium NV A. – Investing in today's technologies, such as aluminium window and door systems, makes such a facility energy-efficient and eco-friendly, but also adapted to current safety standards, which is extremely important, especially in the context of re-adapting the building to residential, service or commercial functions – he adds.